An organization shared a link to an opportunity with me. What do I do next?
When an organization
shares a link to an opportunity
with you, they would like you to
register for the opportunity by submitting a form
.
Here are the steps to register for the opportunity:


1. Click on the link that was shared by the organization

2. Click on the Register button on the bottom-right of your screen, which will prompt you to sign up as a volunteer on Vome

3. Once you create your profile, you will be brought to the registration form, which you should fill out the information requested by the organization

That's it! Once you register for the opportunity, you will be brought to your Opportunities page on Vome, which will show you that you are pending for the opportunity. Once the admin approves your registration, you will be approved, which will allow you to begin reserving spots to shifts!

If the opportunity has a pre-defined screening checklist, you will see it on your Opportunities page. Please make sure to complete all the screening checklist elements that were requested by the organization!


If the difference between opportunities and shifts does not seem clear, a helpful way to think about it is that you just applied to a new job. Once your application has been approved, you can then schedule yourself to shifts for that job. This is how opportunities and shifts work on Vome!

If you are facing any issues with the steps above, you can walk through the detailed process shown below.
---
DETAILED STEPS WITH IMAGES
Step 1: From your computer, click on the link to the opportunity provided by the organization. It will bring you to the opportunity details view that looks like this: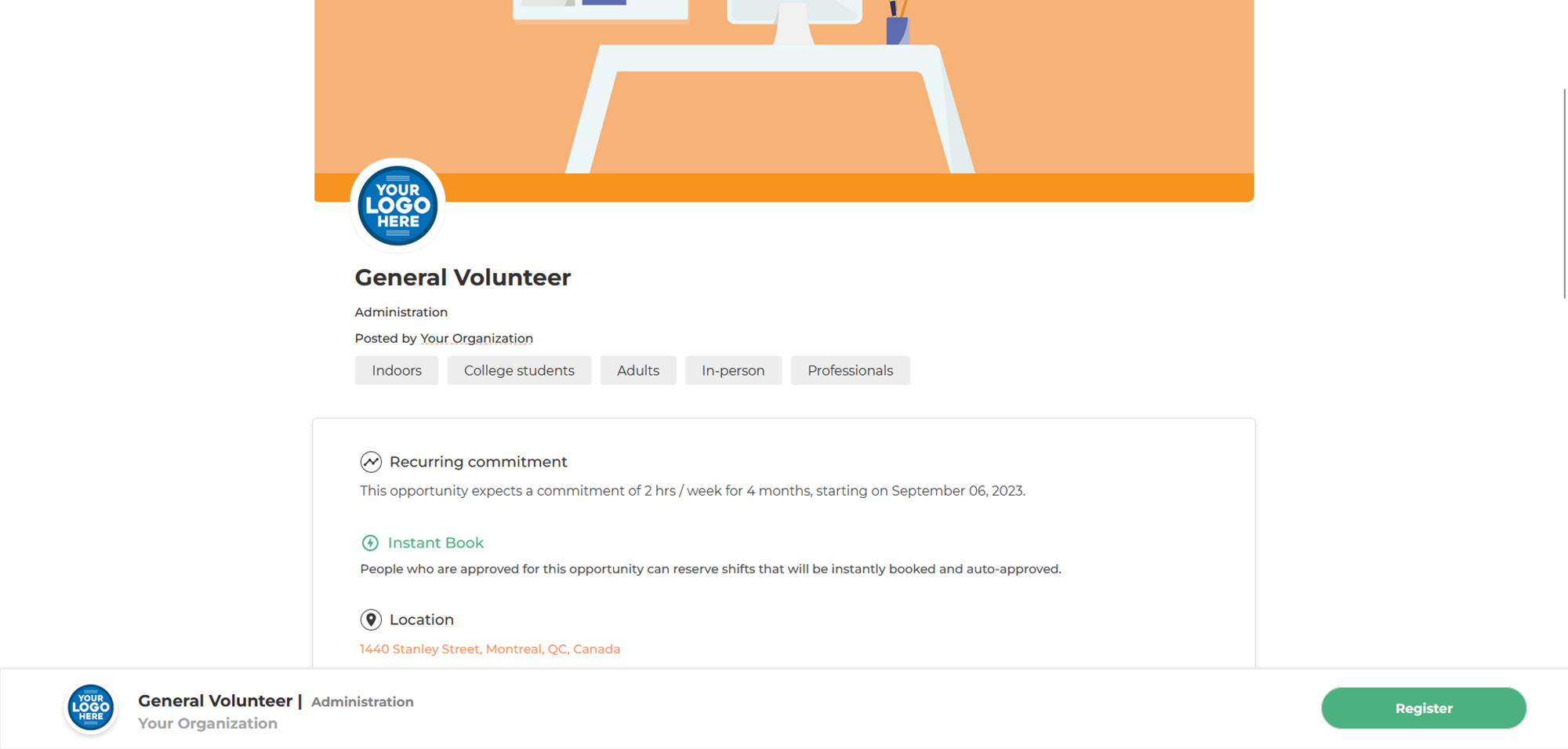 Step 2:
Click on the
Register
button found on the bottom right of your screen, as shown below.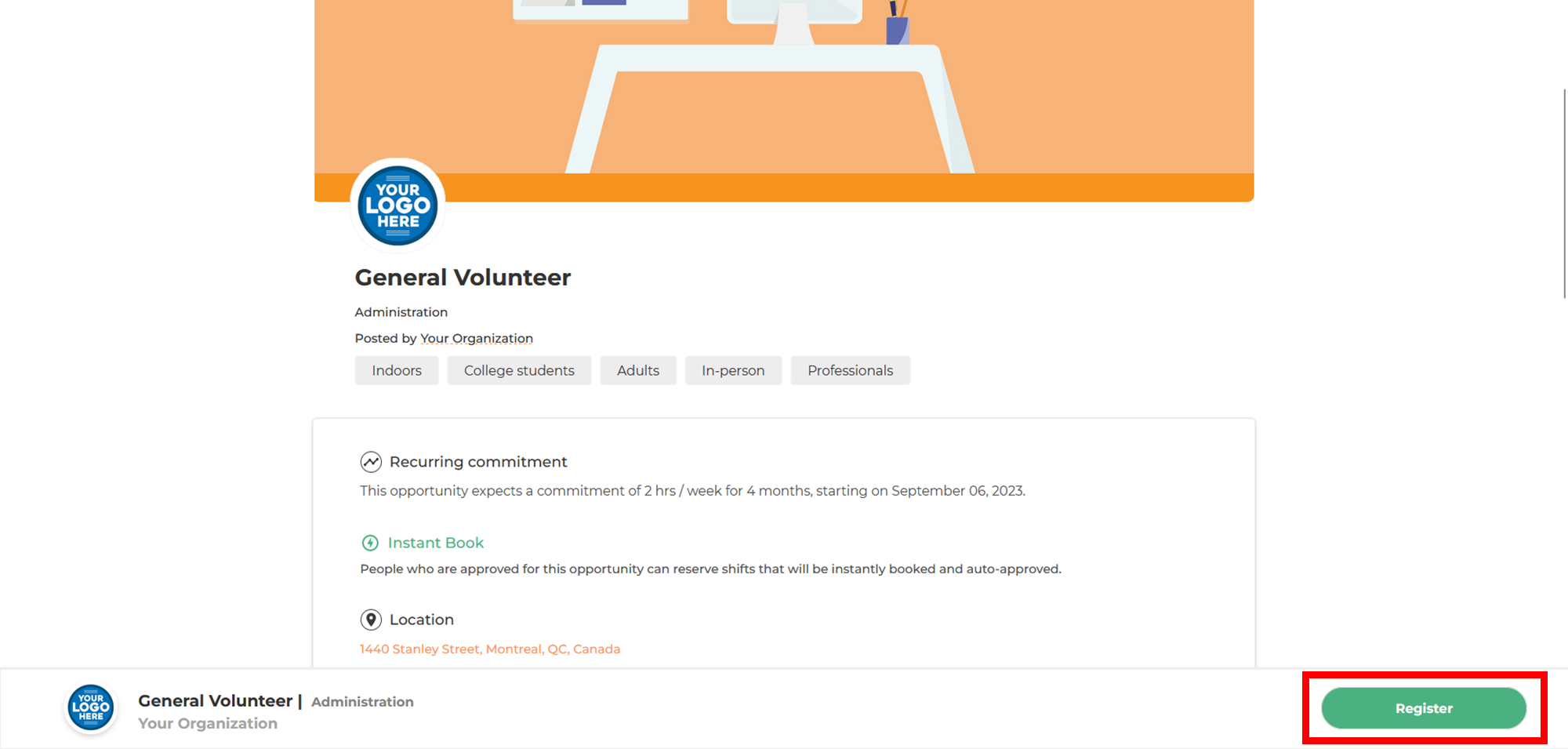 Step 3:
This will prompt you to
sign up to Vome and create your profile
. Make sure to include you
first name, last name, email,
phone number
and
password
.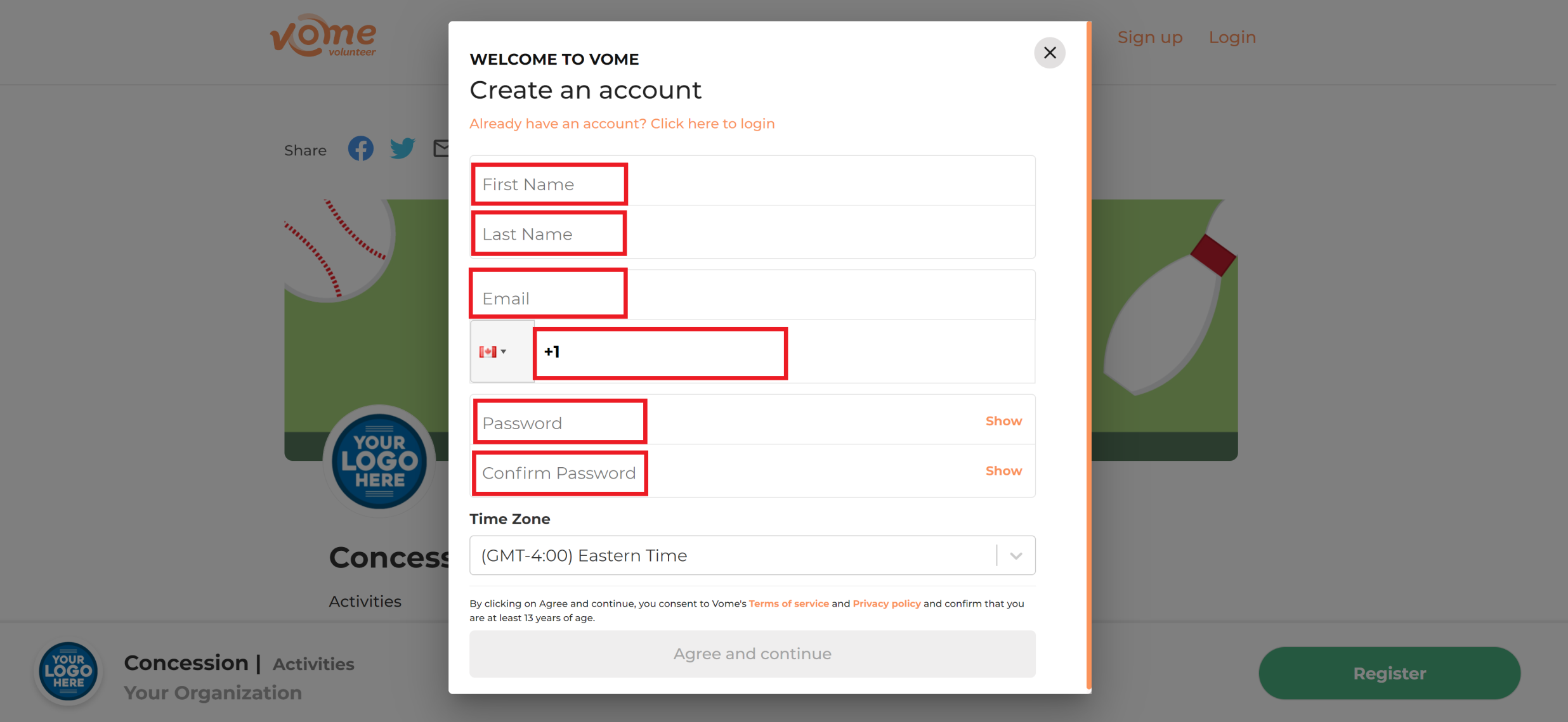 Step 4: Authenticate your email by entering the code shown on the popup.

If you don't receive the email, please wait 1-2 minutes and check your junk, spam or updates folders. If you did not receive any code, you can email us at
support@vomevolunteer.zohodesk.com
and we can help you.
Step 5: Once you successfully created your profile, you will be redirected to submit the registration form.


The organization customized this form so please make sure to fill out all requested information!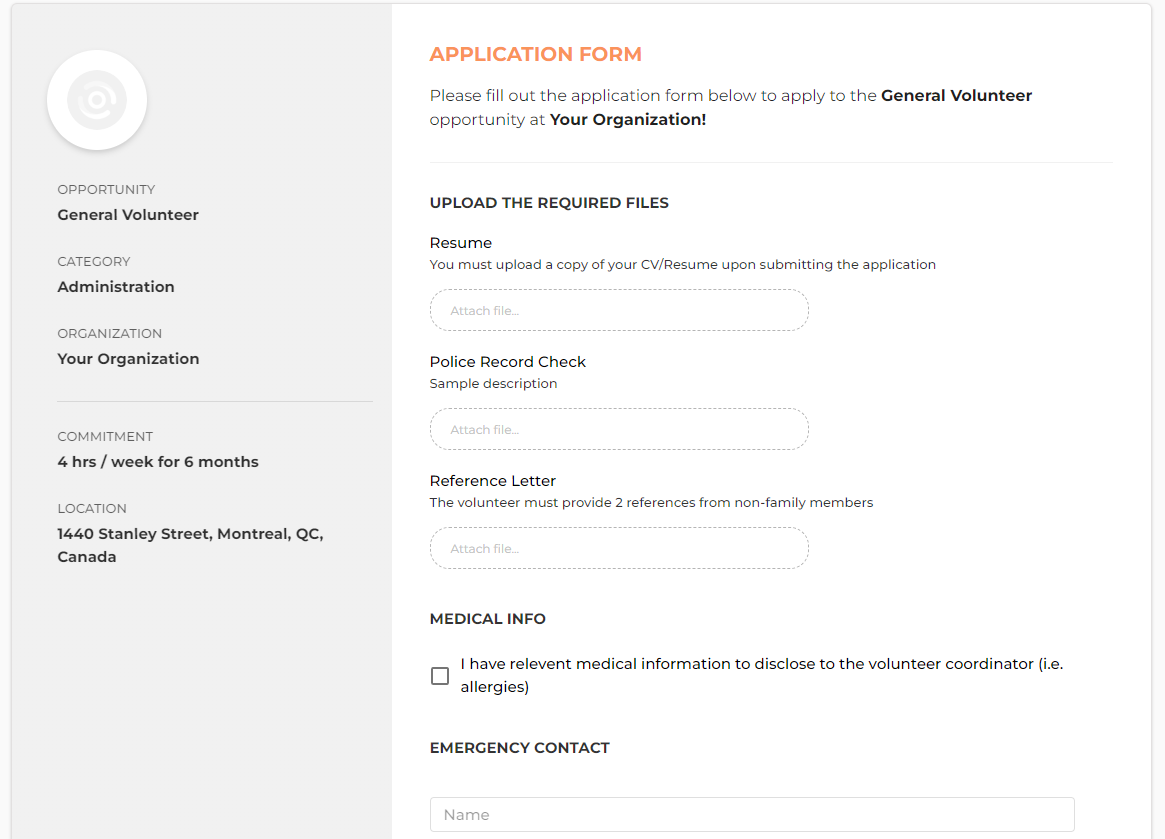 If there is a Select shifts section on the form and you would like to learn more about this works, read this article.

Step 5: Click Submit and you should be all set!
Please note that some of the sections may be required and therefore, you must fill them out before being able to submit the registration form.


Step 6: Seeing that you registered for the opportunity

Once the application form is successfully submitted, your application to the opportunity is now
Pending
and you should be able to see the opportunity on your Homepage and My Opportunities pages.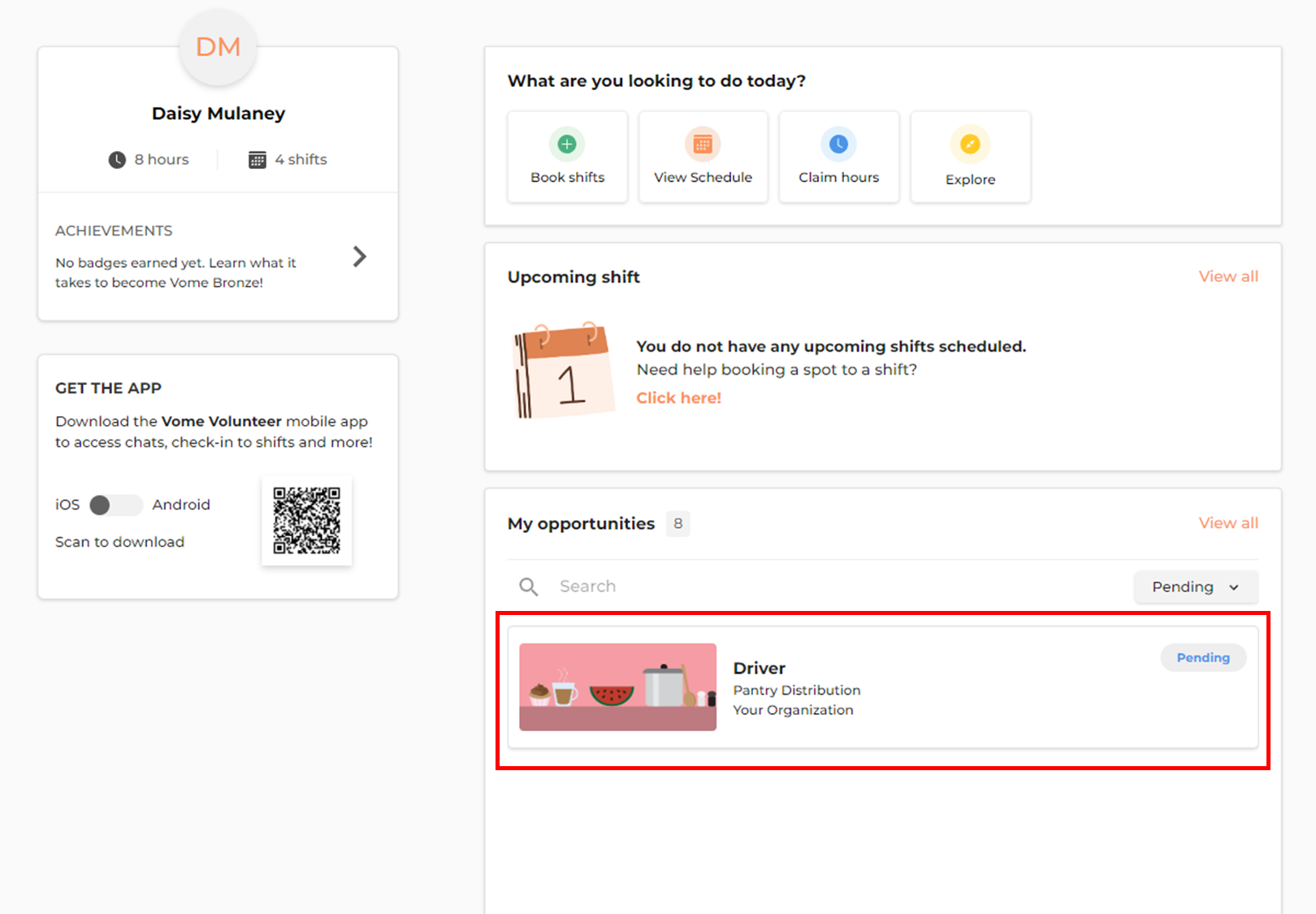 You will be notified once your application has been
approved
- either by email or the mobile app if you've downloaded it! To download the mobile app,
click here to learn more
.