How can I create a custom group chat for Vome Users from the database?
1. Go to the Database

2. Select one or more volunteer records

3. Click on the black down arrow next to the right of "# records selected"

4. Click on Create chat

You can only create a group chat with Vome Users. If an Offline Profile is selected when trying to create a chat it will be omitted from the group chat.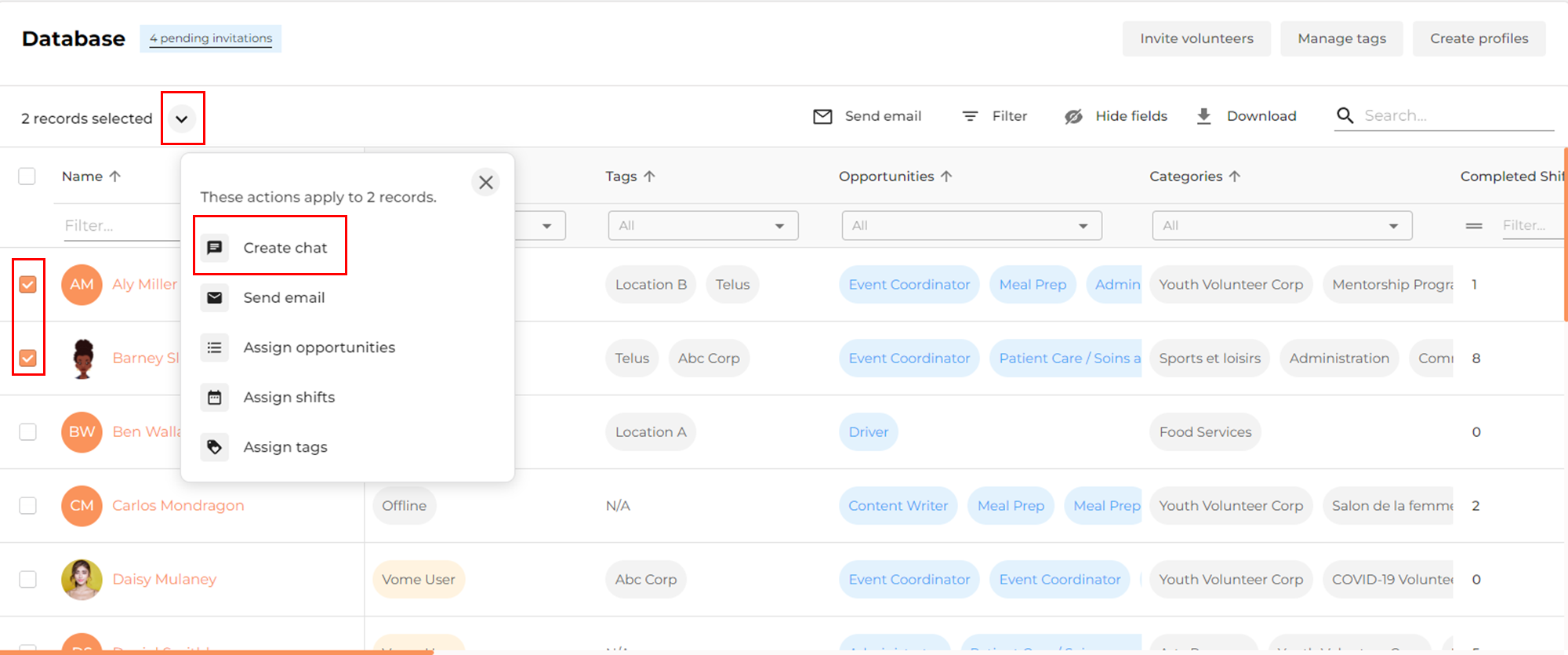 Related Articles

Can I edit profile information for Vome Users or Offline Profiles in the database?

You can only edit profile information for Offline Profiles that you manually created in the database. If the volunteer record is a Vome User, it means that the volunteer has entered the profile data themselves and saved it to their Vome profile. ...

How do I create Offline Volunteer profiles in the database?

1. Go to your Database from the left-hand navigation 2. Click on Create Profiles on the top right of Database view 3. You will have the choice to Add a Volunteer or Mass Import (via excel) You must add at least a first name, last name and email ...

How do I use chats on Vome?

Vome has a built-in instant messaging platform designed to simplify communication between groups of volunteers and administrators. The types of chats we offer : 1. Direct 1-1 chats 2. Custom group chats (only administrators can create custom group ...

How do I upload my spreadsheet into my database?

If you have not yet prepared your spreadsheet, read this article Steps to import your spreadsheet into your database: 1. Login to Vome and using the left-hand side navigation, click Database 2. On the top-right of the page, click Create profiles 3. ...

How do I apply on behalf of a group?

Submitting the form If you are applying to an opportunity and/or trying to create a reservation to a shift on behalf of a group, we recommend adding a note at the bottom of the application form. For example, add the name of the group/company, how ...