How do I add a new opportunity?
1) On the navigation bar click the green "
+
" icon next to Add Opportunity.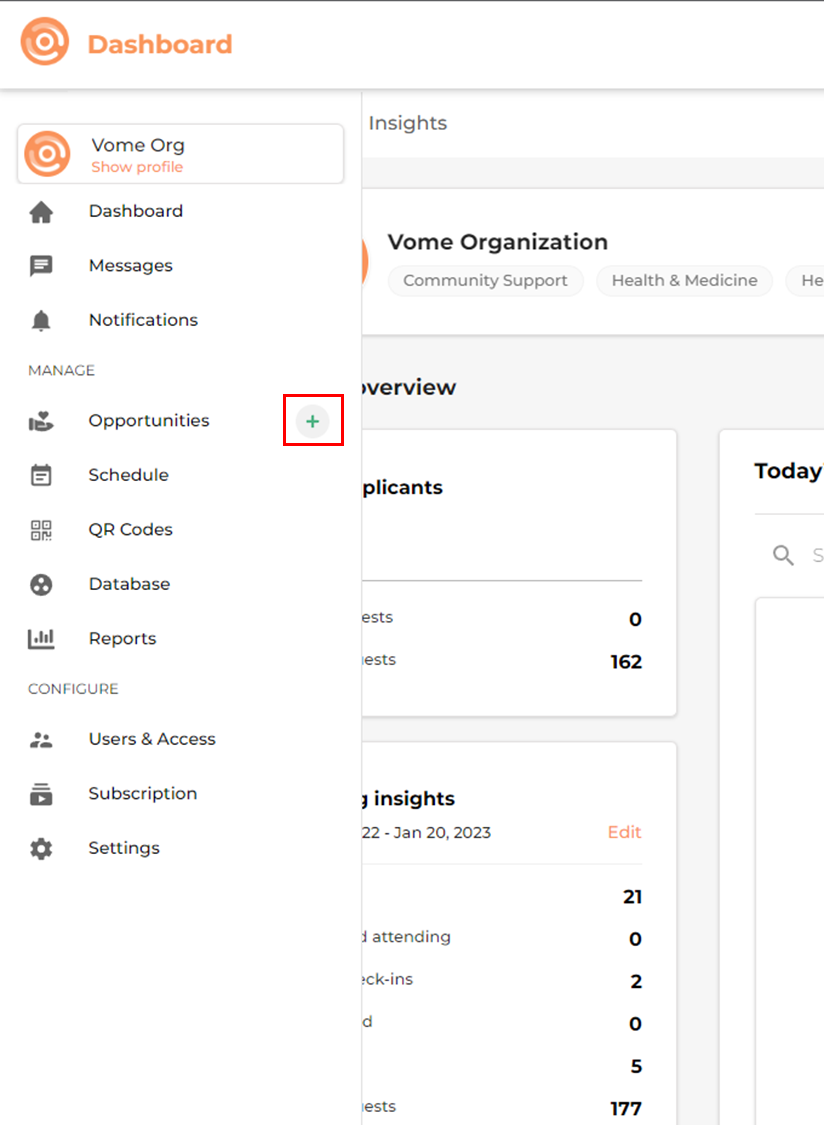 2) Add the details of the opportunity.

Provide the title, description, category, tags, commitment, location and primary coordinator.

Select an admin that will be the coordinator for the opportunity you are creating. The selected admin is the user who will receive updates. reminders and notifications relating to the opportunity.
3) Add the qualifications for the opportunity. This is optional.

4) Customize the schedule for the opportunity by generating shifts and/or enabling Flexible Schedule. This is optional.

5) Customize the application form that volunteers will fill out upon applying to the opportunity. This is optional.

6) Customize the onboarding process once you receive a new applicant. This is optional.

For more information about the difference between the Application Form and Onboarding process,
Click here
.
7) Select the visibility of the opportunity: Public or Private

8) Preview the opportunity details and application form, publish & share!

Related Articles

I've filled my opportunity and I want to stop receiving new applicants. How can I do this?

1. Go to Opportunities on the left-hand side navigation 2. Click on the opportunity 3. On the Recruitment tab, click Close if the application status is still Open. 4. On the pop-up click Close applications The result of this action will remove the ...

Mastering the Vome fundamentals: category, opportunity & shifts

We know it can be difficult to start using a new platform. You need to become familiar with the platform's language and features and figure out how to best structure your portal. That's why we decided to define the words below, which are some of the ...

How do I add more shifts for an opportunity?

1. Go to Opportunities 2. Click on an opportunity 3. Go to the Schedule tab 4. Click on Create Shifts ​ You can also achieve this by going to the global Schedule view > on the top left, click on Create Shifts > Select an opportunity > Generate ...

How do I add general notes to a volunteer's application?

1. Go to the Database page from the left-hand side navigation. 2. Click on the person's name to open their profile. 3. Click on the opportunity that you would like to add a note for. 4. Scroll down to the bottom of the application form, and you will ...

How do I promote my organization for new recruits?

We want to make it as easy as possible for you to streamline volunteer recruitment at your organization. Vome sharing tools work across every device, including computers, tablets and smartphones. If the volunteer has the mobile app, it will redirect ...