How do I invite more admins?

Please be advised that if you are on a paid plan, y
ou must first ensure that you have the
correct number of admin seats on your Subscription page (see detailed steps in the section below)
Steps to add more administrators:
From the left-hand navigation menu, go to Users & Access
On the top right, click on + Invite Admin
Fill in the basic admin profile information and click Send Invitation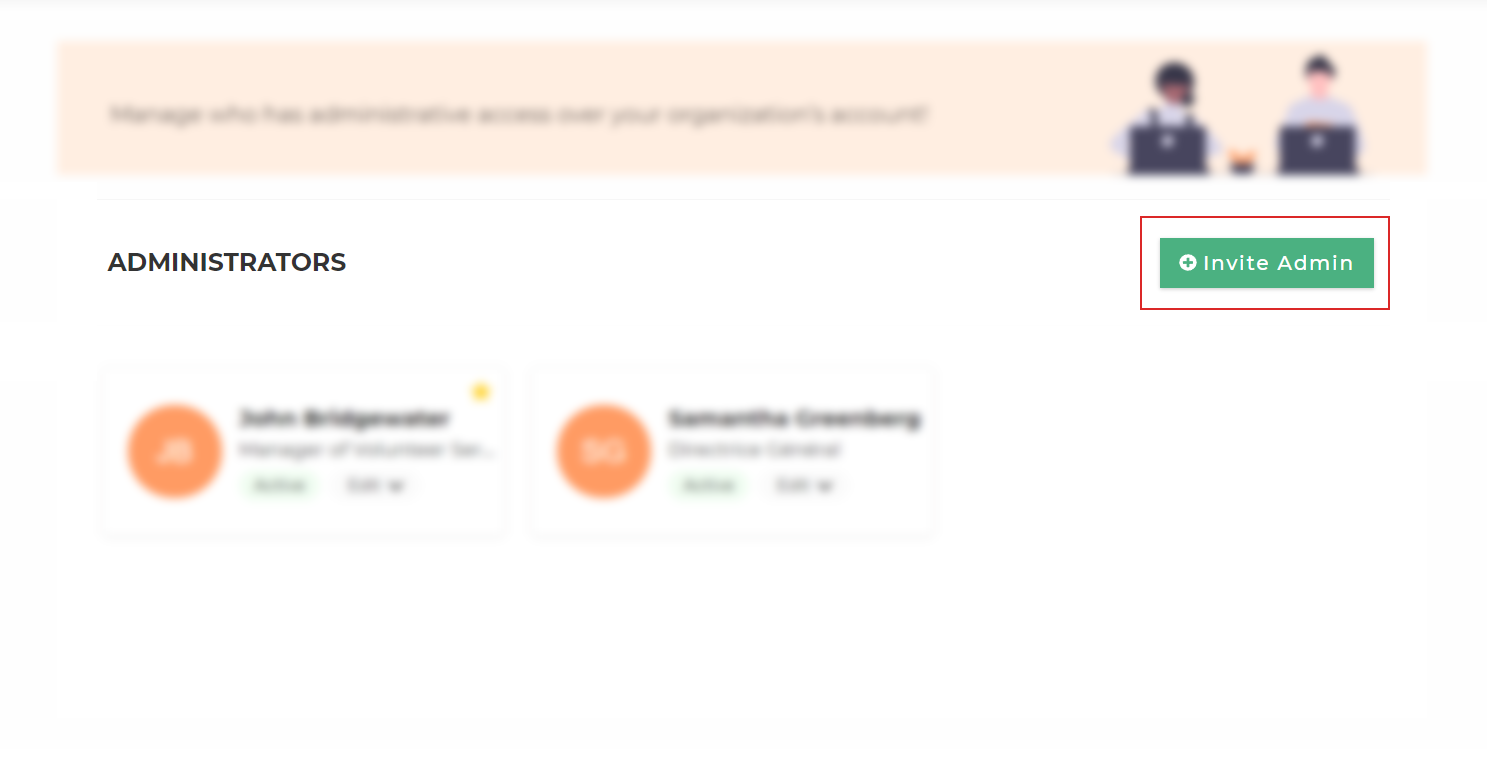 Once the admin receives their email invitation and creates an admin profile using the same email address that you sent the invitation to, they will immediately be added to your organization's account.

Please note that adding additional admins may affect billing. See our
pricing
for the additional cost per admin.
Steps to update the number of admin licenses under your account if you are on a paid plan


You must be the account holder to update the subscription for the account
From the left-hand navigation menu, click

Subscriptions



Under the Annual or Monthly Subscription, under Number of seats, click

Update




Select the new total of admin licenses you wish to have. Click

Save & Continue




Finish the update subscription process




Once you added more admins licenses, you can invite admins using the steps in the section above.



Related Articles

What happens when I invite volunteers to claim their profile on Vome?

Inviting your volunteers to claim their profiles on Vome can provide many operational benefits for organizations. Let's go through how the process works: 1. Once you invite a volunteer from your database, you will see it appear as a Pending ...

Why should I invite my other administrators to Vome?

Please note that only the account holder can manage administrative access There are many benefits to adding other administrators to the organization's account. Here are a few: 1. Assign them to opportunities Only the coordinator assigned to an ...

How do I add general notes to a volunteer's application?

1. Go to the Database page from the left-hand side navigation. 2. Click on the person's name to open their profile. 3. Click on the opportunity that you would like to add a note for. 4. Scroll down to the bottom of the application form, and you will ...

How do volunteers check-in/out using the QR code?

Admins should put the QR code on display digitally or by printing it out, and instruct volunteers to do the following: To check-in or out of the shift: 1. Open the Vome Volunteer mobile app 2. Press the QR code icon 3. Scan the QR code or enter the ...

The organization requested sensitive information from my profile. How does this work?

By default, we automatically share your basic profile information with an organization once you submit one of their forms. These fields include: - First name *Required by volunteers to sign up to Vome - Last name *Required by volunteers to sign up to ...