How do I share a link to an opportunity?
Steps to generate a shareable link:
1. Using your left-hand navigation, click
My Opportunities
2.
Click the opportunity
for which you would like to share
3. Click the Details tab
4. Click Share on the top right of your screen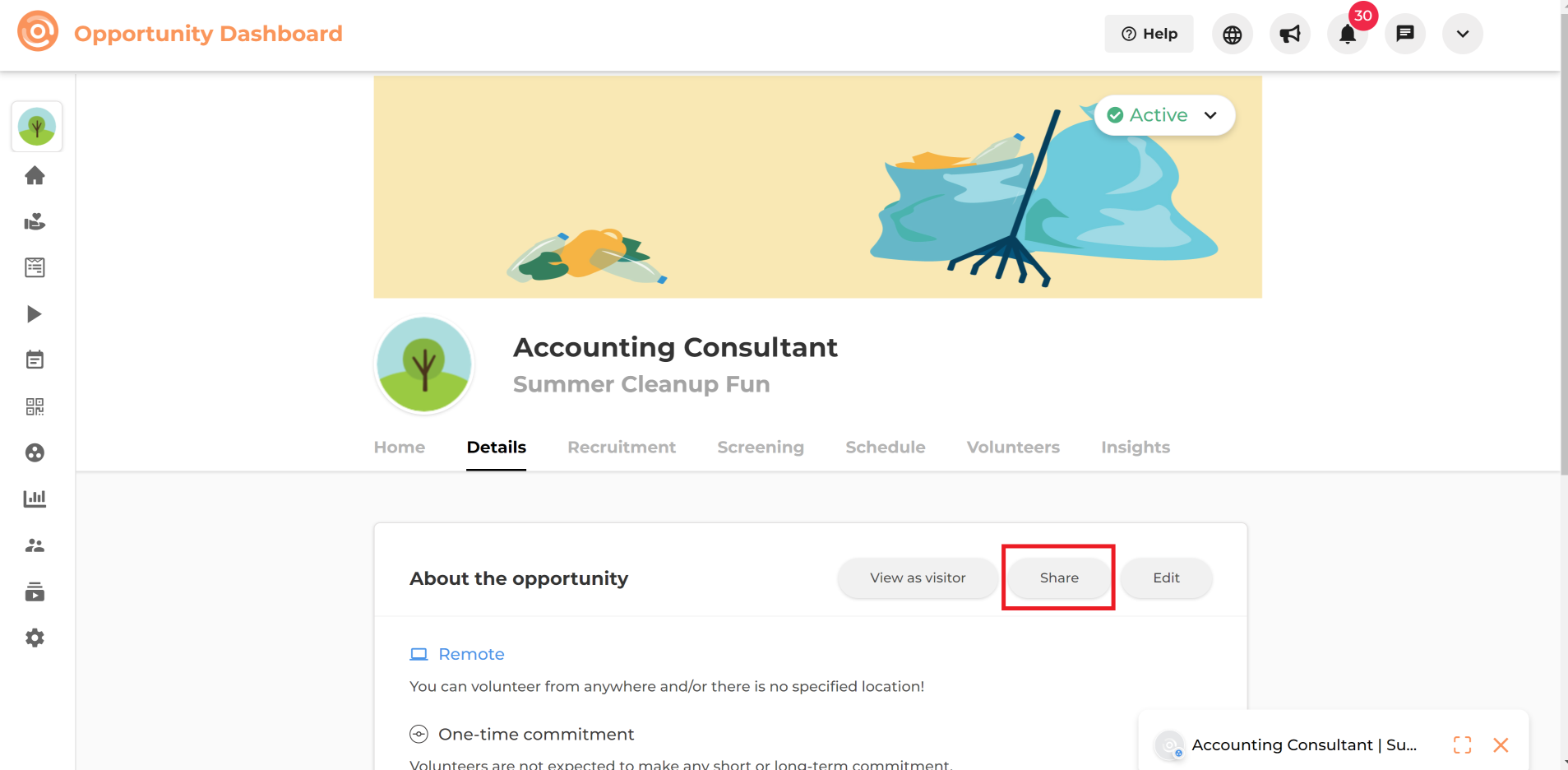 ​
Related Articles

How do I share an opportunity?

To share an opportunity, follow these steps: 1. Go to your My Opportunities page from your navigation 2. Click on the opportunity. 3. On the Recruitment tab under Quick Links, click Share a link. 4. Copy the URL or share it directly on Facebook, ...

How do I assign volunteers to an opportunity or share a link for them to apply from the opportunity dashboard?

1. Go to Opportunities 2. Click on an opportunity 3. Go to the Volunteers tab 4. Click Add Volunteers When adding a volunteer to an opportunity, Vome Users will be notified about the opportunity they've been assigned to. If you are assigning an ...

An organization shared a link to an opportunity with me. What do I do next?

When an organization shares a link to an opportunity with you, they would like you to apply by submitting a form. Here are the steps to apply: 1. Sign up as a volunteer on Vome Need help or facing issues creating a volunteer profile? Read this ...

How do I share the link to my organization's recruitment page?

2-steps: 1. Using the left-hand navigation, click View Page 2. Click Share The link will be copied to your clipboard. You can immediately paste the link and share it wherever you're recruiting volunteers! This is a public-access URL. Anyone who ...

How do I add a new opportunity?

1) On the navigation bar click the green "+" icon next to Add Opportunity. 2) Add the details of the opportunity. Provide the title, description, category, tags, commitment, location and primary coordinator. Select an admin that will be the ...