I see a "Select Shifts" section on a form. How does this work?
The organization has the option of including a section called Select
shifts
on a form.
This allows volunteers to include shifts as part of their submitted form. However, the volunteer still must get approved for the opportunity before the selected shifts are booked.

To get a better idea of how this works, it is important to understand that volunteers must be
approved for an opportunity
before they are eligible to view and
reserve spots to shifts.

For example, imagine there is a volunteer named Sabrina. She wants to register for an opportunity titled Server posted by her local food bank. When filling out the registration form, she sees there is an available shift next Tuesday at 1:00 PM which she includes on her submitted form! However, before she can officially reserve her spot to the shift, the food bank needs to ensure that Sabrina is eligible to participate for this opportunity. Therefore, only once the organization approves Sabrina's registration for the Server opportunity, her reservation to the shift next Tuesday at 1:00 PM will be confirmed!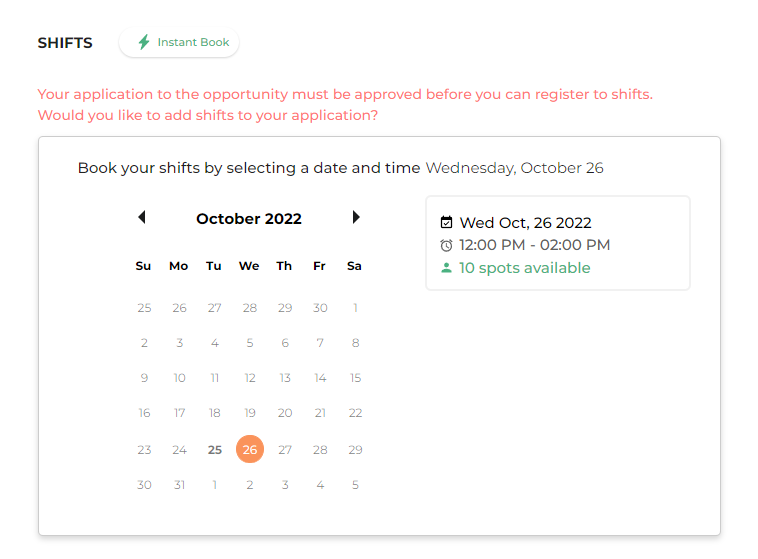 Related Articles

How does it work when I add the "Shifts" section to the application form?

When adding the Shifts section to the application form, you are allowing volunteers to pre-select shifts and attach them to their application form. However, the volunteer can only be approved to shifts once they are approved for the opportunity. ...

How does the "Profile Information" section work on a form?

By default, when a volunteer submits a form with your organization, we will be sharing their basic profile information with you. Basic profile information includes: - First name *Required by volunteers to sign up to Vome - Last name *Required by ...

How does the "General Availability" section work once added to the application form?

If you add the General Availability section to the application form, volunteers will be able to indicate their availability by selecting days of the week, and indicate morning, afternoon, evening or add a custom time slot for each of the selected ...

How do Opportunities work on Vome?

Opportunities are used to group your volunteers by an activity or position. For example, imagine you had a Driver opportunity at your organization. It is likely that not every volunteer is eligible to reserve spots to shifts for the Driver ...

I submitted a form and included shifts in my submission. Why aren't I booked?

Once you submit the form on Vome, the organization will need to approve your registration for an opportunity before your shifts are scheduled. Until the coordinator from the organization approves your registration, you will not see shifts appear on ...