I've been invited to join Vome by an organization. How do I get started?
Welcome to Vome! Let's get you started.
Here are the steps to accept the invitation:


1. You should have received an email from Vome.
2. In order to accept the invitation, you must sign up to create a volunteer profile.


You must sign up to Vome using the
same email address
for which the invitation was sent. Otherwise, you will not be able to accept the invitation once you've registered.

Need help or facing issues creating a profile?
Read this article
.
4. You should see a popup on your screen to Accept the invitation.
5. Once you accept, you're all set!



If you are facing any issues, you can walk through the process shown below which contains images.
Now that you've created a profile and accepted the invitation, here are useful links:


DETAILED STEPS WITH IMAGES


Step 1:
You should have received an email from Vome.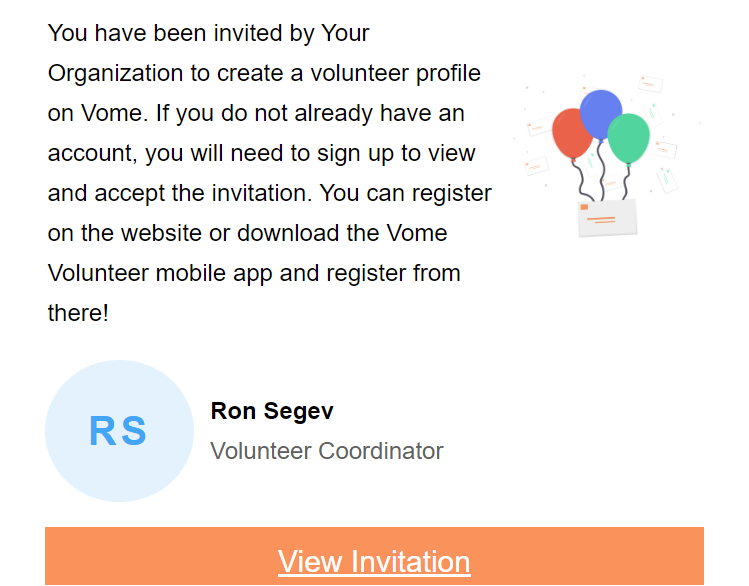 Need help or facing issues creating a profile?
Read this article
.
Step 3:
Once you have created a profile, go ahead and
login to Vome
.

Step 4:
Once you login, y
ou should see a popup on your screen to
Accept the invitation.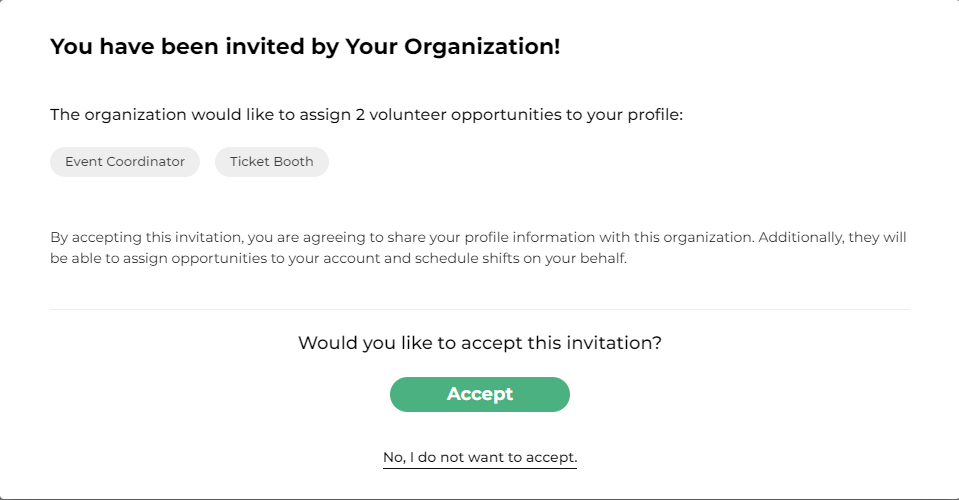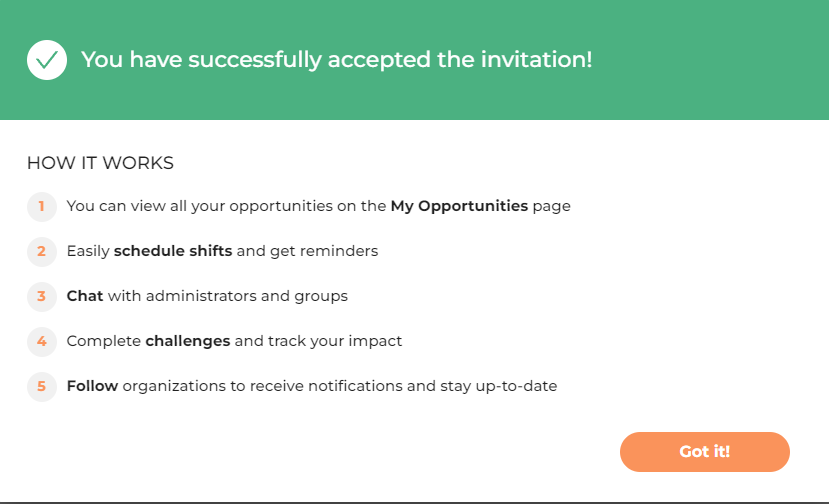 If the organization did not assign you to opportunities, they likely
shared a link with you to apply to an opportunity
. We recommend reading through this article to see how you can apply to an opportunity: An organization shared a link to an opportunity with me. What do I do next?
Related Articles

I'm a volunteer. How do I use Vome?

Vome was built to make it easy for volunteers to engage with organizations. More specifically, we want to simply the process for you to: 1. Register for new volunteer opportunities Link: How do I register for an opportunity? 2. Complete screening ...

I'm an active volunteer at an organization but don't have any approved opportunities on Vome. What do I do?

If you've been volunteering at an organization that started using Vome to manage their program, we're here to help you onboard! The first step is to become approved for an opportunity. Being approved for an opportunity allows you to book shifts that ...

How do Vome achievements work?

Vome achievements Vome built a 4-tier badge system for volunteers: Bronze, Silver, Gold and Platinum. To be awarded a Vome Badge, volunteers must complete available challenges to earn Vome Points (VP). Challenges are focused around activity ...

What's the difference between Sequences and Screening Checklists on Vome?

Both of these features allow organizations to manage the screening and onboarding process for volunteers. You can choose the process that works best for you! Sequences: step by step process that is used independently of which opportunities they are ...

How do I promote my organization for new recruits?

We want to make it as easy as possible for you to streamline volunteer recruitment at your organization. Vome sharing tools work across every device, including computers, tablets and smartphones. If the volunteer has the mobile app, it will redirect ...