Master the Vome fundamentals: The relationship between Categories, Opportunities, Locations & Shifts
We know it can be challenging to start using a new platform. To start, you should become familiar with the platform's lingo and hierarchical breakdown to map out how to best structure your portal when you go through the process of creating new opportunities.





Category:

A category is a way to group multiple volunteer opportunities (ex. program, event, department, or location). A category consists of a title, description and cover photo. Volunteers can browse categories on your profile or learn more about them when reading the details of an opportunity.


You would want to make your category labels as locations (ex. Location A, Location B, Location C, etc) if you're a multi-chapter or multi-location organization. The reason being that when you are looking to export reports later on, all your opportunities will be grouped by location.

Think of a Category as being equivalent to a folder on your computer - it's just way to group together multiple items under one label.
Opportunity:

Opportunities are generally used to group your volunteers by an role, position, activity, assignment or task. Profiles who are approved for an opportunity can view and reserve available shifts for that specific opportunity (there may be 1 shift if it's for an event or recurring shifts every week for the next 6 months if it's a program).

You will explore more about how opportunities work when going through the
+ New Opportunity
process. But if you want to dig a bit deeper, you can read:
How do Opportunities work on Vome?

If you have the same opportunity across multiple categories, you would need to create the opportunity multiple times, each one in it's respective category. However, the titles of the opportunity must be unique so you might to consider a labeling format that will make sense for reporting purposes later on. For example, you are a food bank with Servers at Location A and Location B, etc. You'' have 1 opportunity titled "Server (A) within the "Location A" category and another opportunity titled "Server (B)" in the "Location B" category.

You can use the Duplicate feature when you're on the + New Opportunity" view to build a new opportunity based on the skeleton of a pre-existing one.

Location:

Each opportunity is linked to a location. A location can either be a specific address (optional unit #) with additional info that will be displayed on the shift details within this opportunity.

Every single shift linked to an opportunity will have the opportunity's location. You cannot customize the location for a single shift.

Shift(s):

A shift consists of a date and time slot in your schedule, which must be associated to a specific opportunity. You can create shifts in bulk for recurring schedules (i.e. every Tuesday at 1-3pm) and control for the maximum number of spots available. If you decide to invite people to claim their profiles on Vome, they will be able to reserve spots to shifts that are related to opportunities they are approved for.


You will explore more about how to customize your schedule during the
+ New Opportunity
process. But feel free to check out this article:
How does Scheduling work on Vome?
Below is a an example of how the categories and opportunities will appear on your organization's main page. The main page has a link that can be shared and/or embedded in a button on your website (by your team) for recruitment purposes.

Once someone clicks on a category, they will only see public opportunities within the category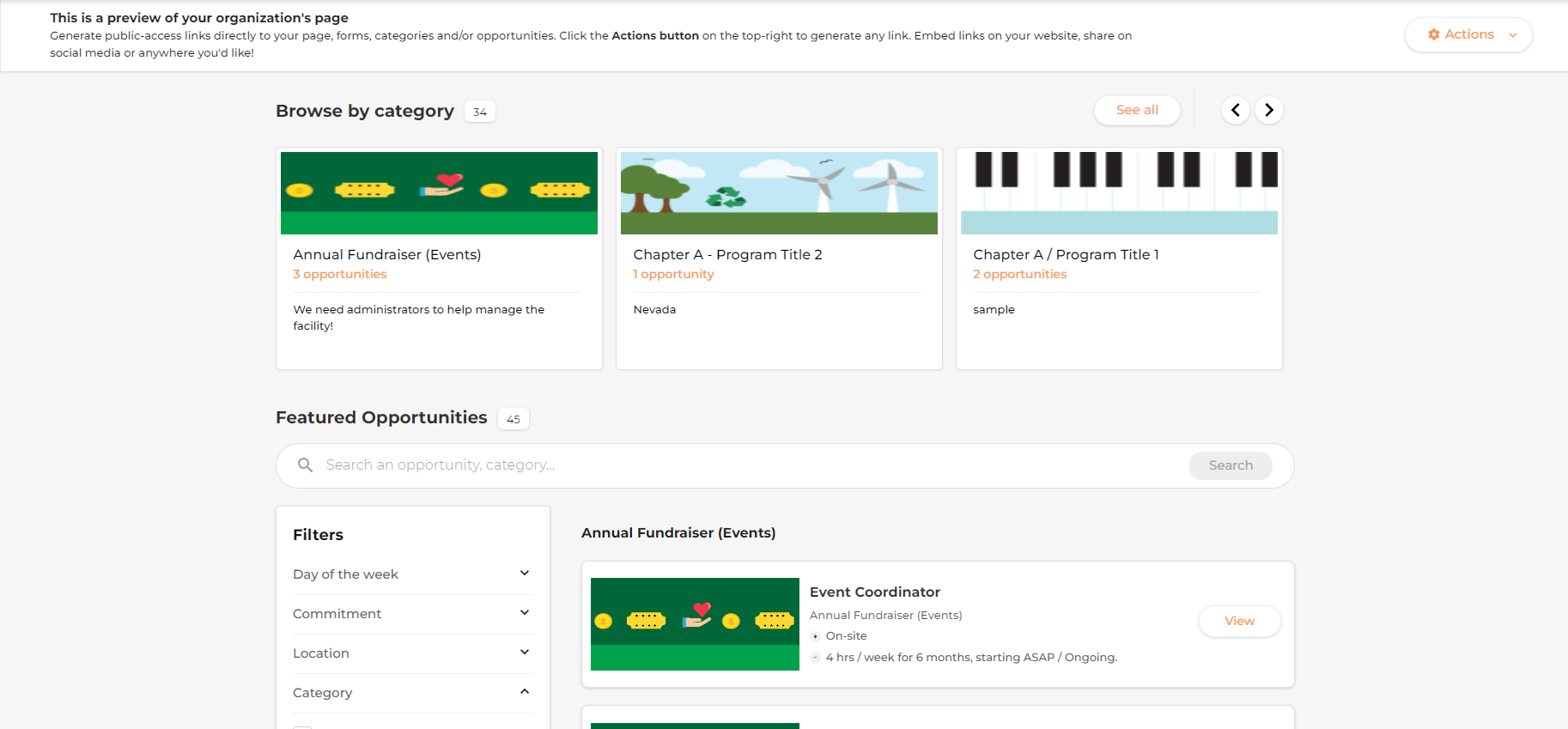 Below is an example of what each opportunity landing page looks like

Notice how the opportunity title has a category title under it. This means that the Ticket Booth opportunity falls within the Annual Fundraiser (Events) category. There's also a specific location tied to the opportuntiy as show in the The Vome Hierarchy diagram..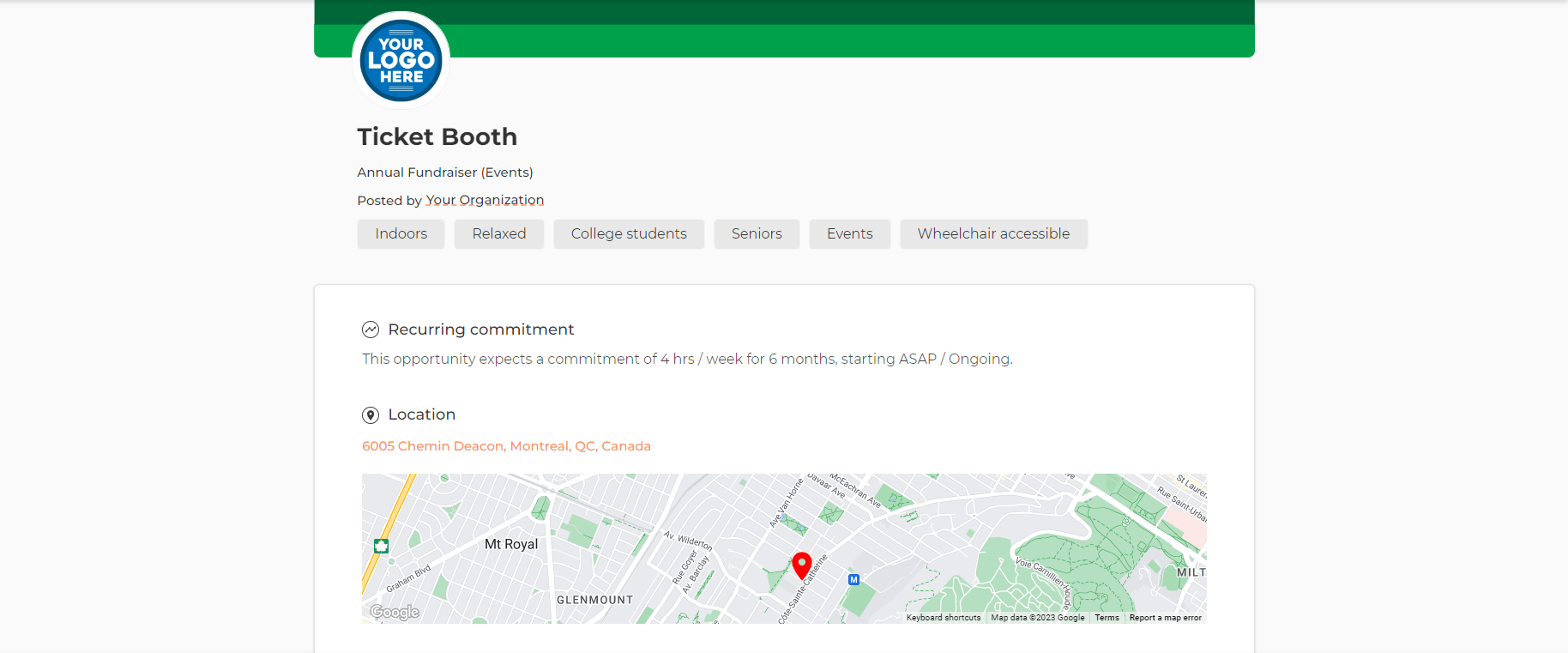 Related Articles

How do Opportunities work on Vome?

If you are creating an event, read this article: How do I set up my portal to organize event-based volunteering? Opportunities are generally used to describe a job, position, role, activity, task, assignment, etc. Opportunities and Shifts are two ...

How does the Shifts section within Forms work?

When you enable the Shift section, you will be able to populate the shift calendar in the 3rd step when creating the form. When you populate the calendar, You'll be able to select existing opportunities which will populate all shifts across the ...

How do I add or remove categories from my page?

To add or remove categories from being featured on your organization's page, you need to adjust the privacy setting for each opportunity within it. In other words, as long as there are no public opportunities within a category, it will not be shown ...

How can people access a shift calendar even if they're not approved for opportunities?

Generally speaking, users will reserve shifts from their profile if they're already approved for certain opportunities. However, there is a way to allow people to request shifts by submitting a specifically curated Vome Form. Steps to create the ...

How do I use Forms on Vome?

Although you can use forms for surveys or any other data collection purpose from volunteers, they are often used for recruitment. How do people arrive to the form to fill it out and submit their response? There would be 3 ways for volunteers to ...